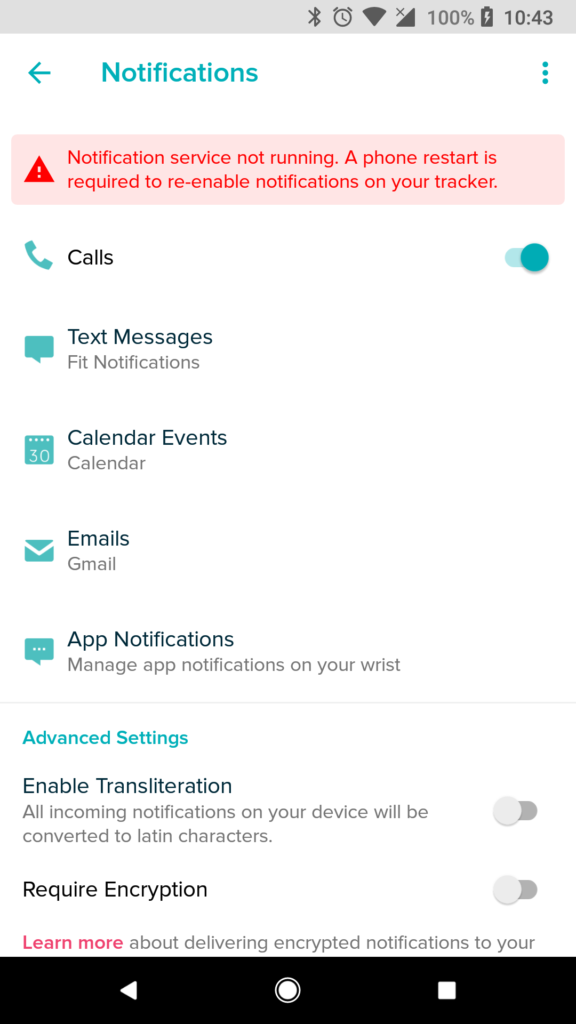 UPDATE: A workaround is available to fix this problem. However, it is annoying. Click here to fix this!
UPDATE #2: Reinstall the Fitbit app if you persistently get the "Notification service not running" issue.
Hello users of Fit Notifications or anyone who is concerned about this issue. Please note that I have personally tested the latest update of the Fitbit app (April 19 2018) and it appears to completely break the notification functionality of the Fitbit app. No, this is not an issue with the Fit Notifications app not being compatible with the latest version of the Fitbit app. It is Fitbit app being broken.
I tried to test the native notification functionality baked into the Fitbit app. Fitbit recommends you to restart your phone to re-enable notifications on the Fitbit tracker after an app update.
They usually send a notification to remind you of this. That is why, after most Fitbit app updates, notifications suddenly stop working and they get fixed once you restart your phone. So, I tried this to see if I can enable notifications again. But sadly, no matter how many times I rebooted my phone (which is a Pixel 2 by the way) I could not enable notifications again. In fact, if I go into the Notification settings page of the Fitbit app, I see this error message on the top (see the screenshot on the right). I couldn't clear the error even after numerous reboots to my phone. I even tried to send a test call within the Fitbit app and it did nothing.
So, there you have it. Until Fitbit fixes the buggy update, it appears that the latest version of the app won't work with notifications.
NOTE #1:  It may be entirely possible that this show stopping bug occurs only on some devices and not all. If that is the case then please try restarting your phone and re-syncing your Fitbit tracker with your phone. Hopefully that should fix the problem.
NOTE #2: A lot of people in the comments section of the Fitbit app are complaining that the latest update is not letting them get notifications when the phone is in silent mode or vibrate mode. (Firstly, this seems to suggest that the latest version is working for at least some people, if only not in silent mode). So if this is the case, please disable silent mode on your phone if you are using it. I know a lot of you are power users who love to use this feature while the phone is silent to avoid double disturbance, and so I made sure that my app can be used in such a fashion. Sadly, Fitbit feels otherwise!
UPDATE: Some users have noticed that this issue occurs with even earlier versions of the Fitbit app, as early as version 2.68. Users have reported issues regarding the Android app on the Fitbit community forums as early as March 26, 2018. You can try to downgrade your app (unofficially) to an earlier version by searching for an .apk file (i.e. the application installation file) for the earlier version. But please note that this is not a recommended approach as such .apk files may be tampered with and installing unverified software on your phone can damage it. Proceed with caution if you do this. You have been warned!